The Mid-Autumn National Day holiday is coming soon, and many companies are preparing for the holidays according to the "Notice of the General Office of the State Council Concerning Arrangements for Certain Holidays in 2010." They will be closed on September 18th, go to work on the 19-21st and rest on the 22-24th. Work on 25-30, rest on October 1-7, work on 8-9, rest on the 10th. This year's double holiday is not only fragmented, but the whole holiday period is not short. Many companies are troubled by the proper arrangements for on-duty holidays, security, and security.
Network camera is a new generation camera combined with network transmission technology, built-in video capture card, server, as long as inserted in the network cable can be monitored video from the field through the network, without computer coordination, no video capture card, no geographical restrictions, in any Places to open the browser to enter their own user name and password, you can monitor operations.
The network camera supports 320 degrees left and right, and rotates up and down by 60 degrees. The camera can take photos and videos, and photos and videos can be sent to the mailbox or FTP server. With motion detection, automatic alarm, smart snap function, can be set to send an email alert. Utilize the company's ready-to-use broadband network to achieve low-bandwidth transmission of high-definition images, enabling new functions such as night vision, audio transmission, dynamic alarms, alarm time zones, abnormal auto-recovery, and automatic network interruption.
The application area is very extensive:
In the family: It allows you to remotely monitor the family's condition and monitor the elderly or children;
In the company: You can understand the work situation of employees distributed in each branch at any time;
In the factory, the production site can be flexibly monitored to prevent accidents;
In marketing: It can be used as a window to display company's products and images through the Internet;
In scientific experiments or teaching: It is possible to observe and display and record the test process from a distance.
Unattended sites such as petroleum, electricity, and communications are used for remote monitoring and meter reading.
Used in schools, kindergartens, hospitals, etc., parents can keep track of their children's situation at school through the Internet. The patient's relatives and friends can also visit the patient through the network at any time to understand the patient's condition.
At the same time also used in unattended substations, oilfield production management, telecommunications room monitoring and other fields

figure 2
The networked video camera can be viewed and recorded both locally and remotely; professional centralized monitoring software can be presented to enable simultaneous viewing and recording of multiple frames; the video capture card and video server are provided, which greatly reduces investment. As long as one or more networked people cameras, together with ordinary broadband cable can build an intelligent security monitoring platform, low cost, simple installation, powerful, is widely used in home security, office monitoring, stores, warehouses, factories, remote viewing And other fields.

image 3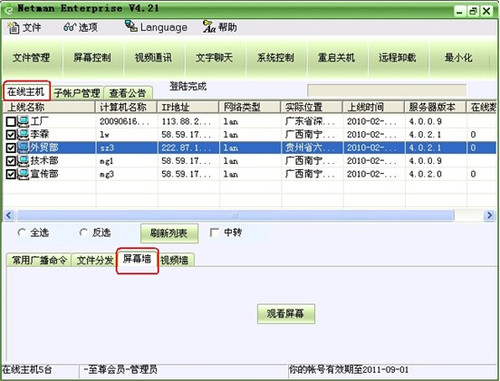 Figure 4
Computer security monitoring
For an enterprise, the importance of computer information security is not less than the company's peripheral assets, and sometimes even more important, so in addition to monitoring the on-site environmental conditions, the security monitoring of the computer is also very important. The remote control software enterprise version of the Internet as a professional remote office and remote management software can remotely monitor multiple computers scattered everywhere, real-time control of the computer's operating conditions, and the operation records can be recorded and evidenced to ensure that the enterprise computer information security.