There are six major ceramic tile producing areas in China:
1. Jiajiang, Sichuan. Sichuan Jiajiang is known as the porcelain capital of the west, and it can produce a considerable number of ceramic tiles every year. The Sichuan production area is rich in energy and has a low labor force. Now the production area has formed a certain scale after a period of development.
2. Shandong. Shandong has always been China's main ceramic tile production base. In addition to producing architectural ceramics and daily-use ceramics, Shandong also maintains a certain production quantity of industrial ceramics and garden ceramics. The variety of ceramic tiles produced in Shandong is very rich and the styles are also very novel. However, due to regional economic constraints and inflexible technology, there is still a certain gap between the technical level of other ceramic tile production areas.
3. East China production area. The place where ceramic tiles are produced in the East China production area is represented by the area around Shanghai. However, the tiles produced in the region generally take the high-end route, and the price is relatively high. The market share is not large.
4. Fujian production area. Fujian is an important ceramic tile production base, and its ceramic tiles are very distinctive. There is a unique world in its market.
5. Guangdong production area. Guangdong ceramic tile production base is mainly in Foshan. The ceramic tiles produced in Foshan have a leading position in the market regardless of their technical level and quantity.
6. Jiangxi production area. The Jiangxi production area was originally concentrated in Gao'an, which was known as the kingdom of glazed tiles. In recent years, ceramic enterprises in Foshan and Jiangsu and Zhejiang have been investing in Jiangxi due to the influence of the local government's promotion of energy conservation and emission reduction policies. At present, many large-scale production bases such as Gao'an, Jingdezhen, Jiujiang and Pingxiang have been formed. With the follow-up of upstream and downstream enterprises and the improvement of supporting facilities, the development potential of the Jiangxi production area cannot be underestimated.
Description
Temporary Fence Also called temporary fence brace or stay used to support the temporary fence panel in
high wind area finish by hot dipped galvanized 42 microns thickness,per stay required two fence clamp and
three concrete feet the additional strength to secure fence panel stand well in high wind per 4.8meter or7.2 meter one stay live.

Specification
Panel: 2400mm*2100mm
Wire diameter: 4mm
Mesh size: 150*60mm
Pipe: 32mm*2mm
Hot-dipped galvanzied
Weight: 25kg
Panel size
2400mm(L)×2100mm(H),2100mm×2500mm
2100mm(H)×2650mm(L),2000mm(H)×3500mm(L)
Frame post
25mm,32mm,40mm,42mm,48mm
Infill mesh
2.5mm-6mm horizontal, 2.5mm-6mm vertical
50x50mm,50x100mm,50x200mm,75x150mm,60*150mm,50*150mm,100x300mm
Finish
pre-hot-dipped galvanized wire and tube then welded,or hot-dipped after welded

Application
Temporary Fencing to secure construction sites and private property;
Temporary fencing for major public events, sports, concerts, festivals, gatherings, swimming pools and other usages
Temporary fencing of residential housing sites;

The feet are removable which makes transportation and storage much easier and more efficient.
Advantage
Environmentally friendly
The temporary fences is perfect for all surface as there are no holes to dig or repair.
Convenient
1. Temporary fences with chain link fence panels are a quick and convenient solution for a location or job site enclosure. Should access be required to anysection of the site
2. It is easily achieved by removing the appropriate panels, and either replacin the panels or adding extra panels when required.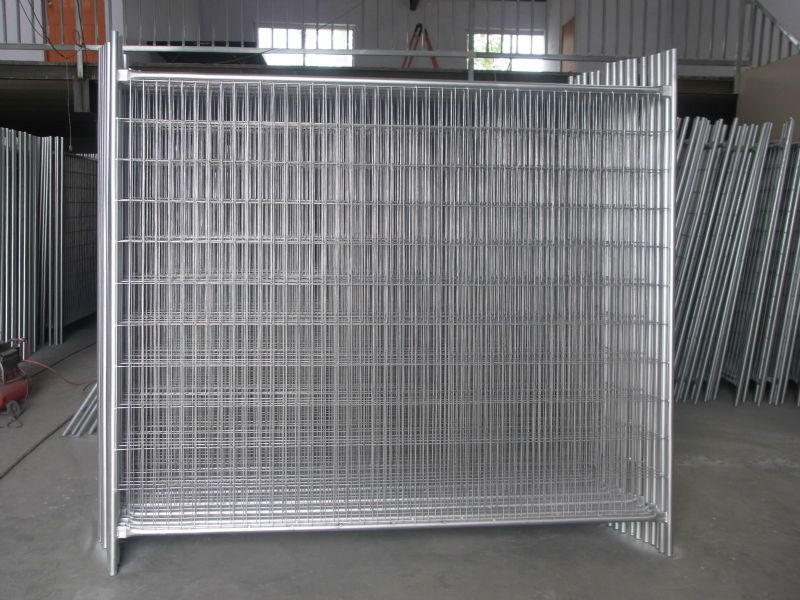 Temporary Fence
Temporary Fence,Temporary Fencing,Temporary Construction Fence,Temporary Site Fencing
Anping Shengjia Hardware Mesh Co.,LTD , https://www.oilshaleshakerscreen.com